Why I Love Monogram Jewelry
I have a personal affinity for antique jewelry with monograms and initials. I am always on the hunt for them for our shop, whether it is a beautifully engraved set of initials on a gold locket or gem studded monogram pendant or brooch.
I'm drawn in by the story behind the piece. It's usually one of love. It's fun to think about the who owned it and the occasion behind the gift.
The quality of the craftsmanship of the jewelry is also a draw. If you were to try and replicate the work today, the cost would mostly likely be a multiple of its current price. If you see one you like snap it up. You will never find another one like it. I can't tell you how many times we get asked about a piece that has already sold.
Latest Find: Antique Diamond B Monogram
This beautiful piece is one of our latest finds. The brooch/pendant is set with old cut diamonds in 15ct gold, topped with silver. The letters are JMB. It can be worn as a pendant or a brooch. We have added a bail to make it easier to add to a chain. I am a huge fan of pairing old cut diamonds in oxidized silver with rose gold. Here is a picture of it paired with an antique rose gold watch chain necklace.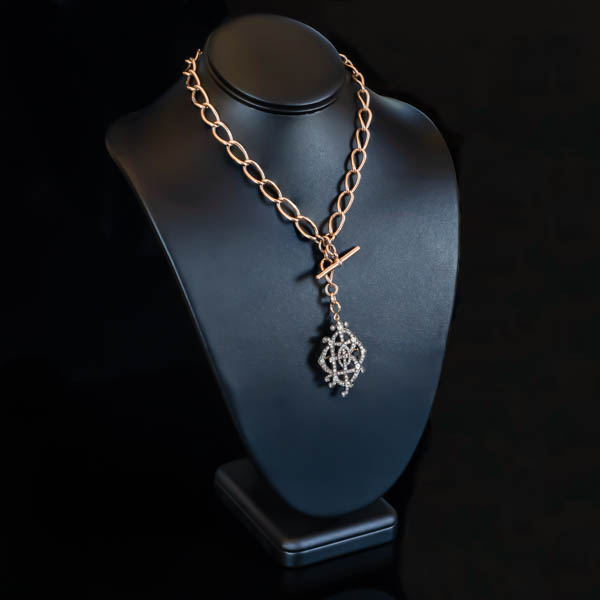 A fun little side note. Is it a monogram or a cipher? According to Monograms and Ciphers by A.A. Turbayne, the difference between the two is: "A Monogram is a combination of two or more letters, in which one letter forms part of another and cannot be separated from the whole. A Cipher is merely an interlacing or placing together of two or more letters, being in no way dependent for their parts on other of the letters." If you are looking for a monogram or cipher for your wedding or to incorporate into your interior design, it's a really great source.
Here are pictures of pieces of examples we have had in our store in the past. Unfortunately, all have sold but, will give you an idea of the possibilities.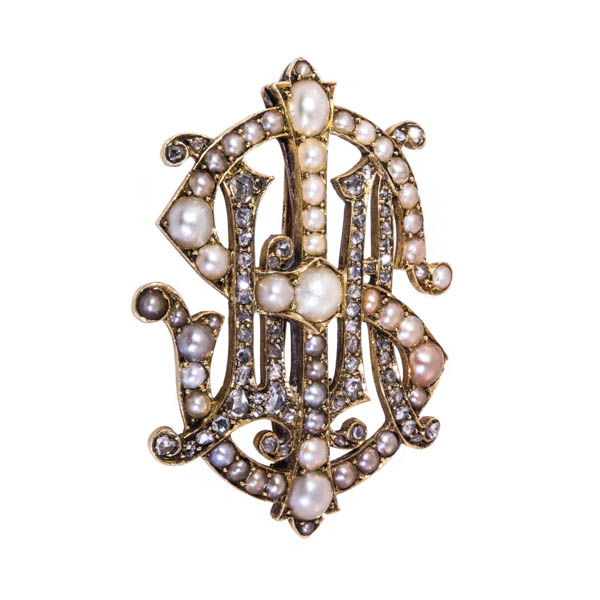 The challenge of course is to find an antique piece you love with initials that have meaning to you: your significant other's initials, your children, your dog's, your cat's, perhaps someone that you miss that is no longer around.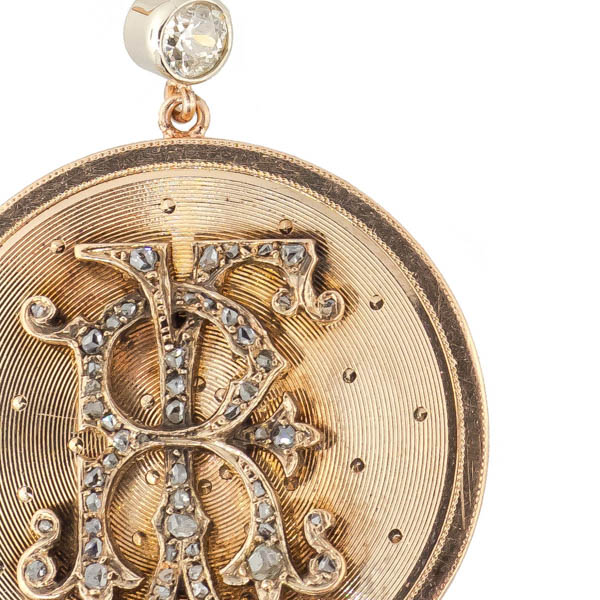 Sometimes a piece is so beautifully engraved that you just don't care whose initials they are. It is more about the beauty of the piece: the artwork above all else!