The short answer is: YES! This very scientific response comes from a statically significant sample number of… a handful of people. But think about it, how something is presented can have an impact on how the item itself is viewed. Brands invest a lot of money in their packaging design and there is a reason for that.
Also consider that the box itself serves multiple functions. It acts as a safe place to store and display the ring when it is not being worn. It also becomes a keepsake or perhaps someday a family heirloom.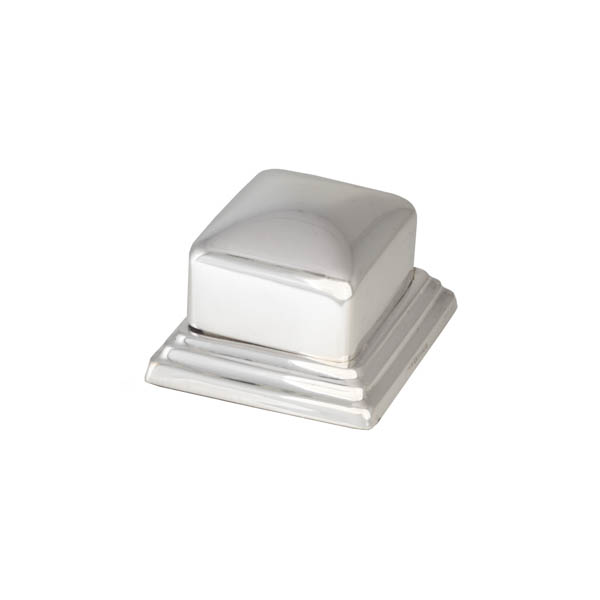 © Copyright Sugar et Cie
THE ANTIQUE OR STERLING SILVER RING BOX
They don't make 'em like they used to... No really, they don't!
From the late 1800's to the mid 20th century, when an engagement ring was purchased at a luxury jewelry store like Tiffany, Birks, and others, a sterling silver ring box was included. These petite silver treasures came in many shapes and sizes: rectangles, squares, rounds, ovals, hexagons and hearts. Some still have their velvet, silk, or mohair linings (a bit worn or faded). Others are missing them or appear to have been re-done or relined.
Like many beloved vintage and antique pieces, they have been around for many decades and have been handled and cherished. This is not necessarily a bad thing. New pieces lack the warm patina, the character and the history that comes only with age.
The engraving on the outside of the box can vary from the elaborate, detailed monogram to a simple, single initial. The number of artisans that can beautifully execute a hand-engraving is dwindling (although a few still exist - and we know one in our area).
When it comes down to selecting which one to purchase, it really comes down to purpose and individual style. Some look for the absence of a monogram hoping to add their own, while others are purchased for the beauty of the existing artwork and the story behind it (even if the monogram doesn't match that of the owner-to-be).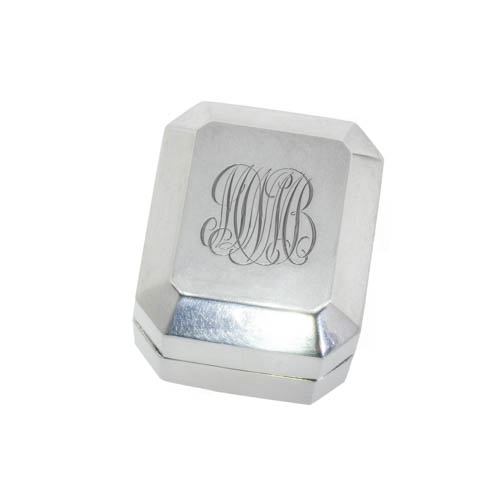 © Copyright Sugar et Cie
We contacted both Tiffany and Birks several years back, and while the boxes that accompany their engagements rings are beautiful, neither offered the sterling silver ring boxes they used to, once upon a time. Update, we contacted Birks again and it appears that sterling silver bell shaped ring boxes once again accompany their engagement rings.
CREATE A FAMILY HEIRLOOM
We firmly believe that if you don't happen to have the perfect heirloom already in the family (or if a sibling got their paws on it first) create one of your own. Buy it! Establish a new tradition with your proposal, a sterling silver ring box that can be lovingly handed down to the next generation. We currently have only one vintage sterling silver ring box (pictured below) in stock. They tend to disappear quickly.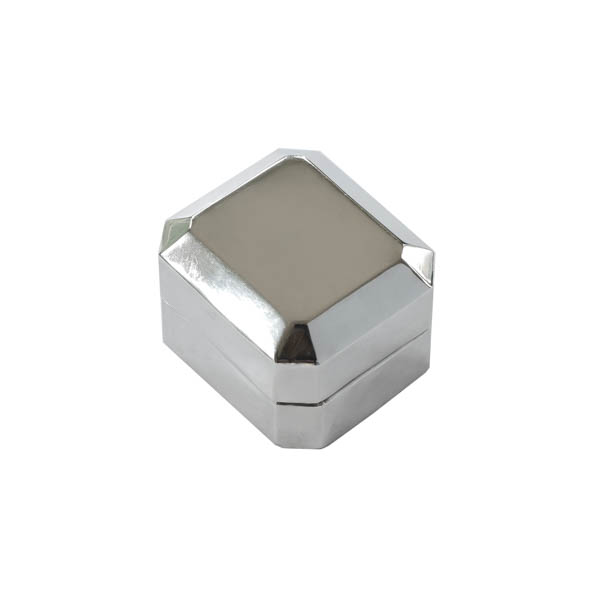 © Copyright Sugar et Cie
A LITTLE MORE ABOUT THESE VINTAGE SILVER RING BOXES
These Canadian beauties were made in the earlier part of the 20th century by Birks, Ryrie, Roden, and Ellis Bros to name a few. While they are usually stamped to tell you whether or not they are sterling silver and often have a maker's marks, they do not have date marks like the ones used in the English Hallmarking system.
Dating them is a bit more challenging. If you want to learn more about Birks' ring box history, read Part II of this blog to learn more and see various example from different periods.
The one pictured above is late Art Deco circa 1940 and was made and retailed by Birks. To purchase, get more information, or see additional pictures visit our Ring Box Collection.
BEAUTIFUL RING DISPLAYS
The thing I like the most about these ring boxes is that they make a beautiful display for any ring. Keep one on your bedside table next to your other pretty little things, or think about collecting a few to create a grouping on your desk or dresser. I do have to warn you, that once you start it is hard to stop.
LUXURY LEATHER ENGAGMENT RING BOXES
If vintage sterling silver is not your thing, we also stock beautiful luxury ring boxes in leather and lined in suede.
These stunning leather ring boxes, in vibrant jewel colors, are from a small atelier in London that specializes in bespoke leather products. They are handmade, one-by-one. You can see and feel the quality.
We currently have a limited number in Lipstick Red and Midnight blue. Additionally, we have a double ring box (engagement and wedding ring or two wedding bands) in Sapphire Blue.