I love the look and the quality of luxury linen tablecloths, napkins, and pillow cases. Personally I lean towards the minimalist side of the spectrum favoring a white-on-white pattern or white with a beautiful monogram. My latest obsession? Vintage Irish Double Damask 100% linen tablecloths and napkins that are "New" old stock from late 19th c. to mid 20th c.
What Makes Irish Double Damask Table Linens Special?
What I especially love about these "New" Old stock, is that they are new stock and have never been used. They still have their original labels.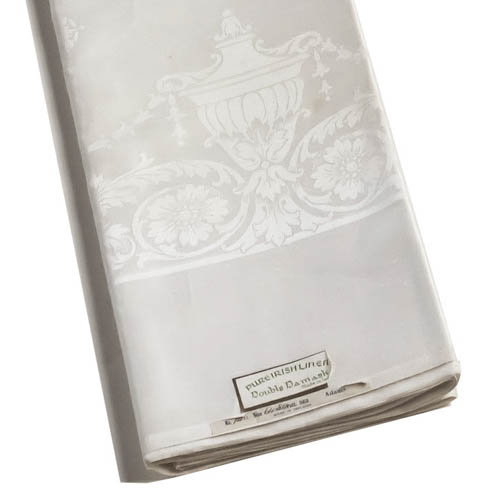 © Copyright Sugar et Cie
This means that you can be a little more relaxed and spend less time worrying about their condition. They have never been used, yet they are vintage. Made of 100% linen, they are high in quality which you can see in the workmanship and the feel of the piece. The kind of quality that is now almost prohibitively expensive to produce. There is only one company left in Ireland manufacturing these linens - Thomas Ferguson Irish Linen, Banbridge, County Down.
Originally purchased as wedding gifts or for elegant entertaining, many have sat tucked away in someone's linen drawer, armoire, or chest, for 60 years or more. Most likely deemed too nice to use - until now that is!
The white-on-white patterns remind me of today's French jacquard linens, except that they are a fraction the price. I wanted to add them to my personal collection and offer them for sale in our boutique.
Vintage Table Linens Buying Tips
It is helpful to buy from a reputable dealer with a good return policy. You should feel free to ask about the condition. While they have not been used, there may be stains or discoloration from storage. When they arrive they will not be pristine, as they were not made yesterday. However, it is likely that if the spots are minor most should disappear with a good soak.
MY PERSONAL EXPERIMENT WITH VINTAGE IRISH DOUBLE DAMAKS TABLE LINEN
Because they are "New" old stock they have never been laundered. I wanted to know what they would look like after a wash. Would the age discoloration disappear easily? Would they still be cream or brighten to a white? How they would look as part of a modern table setting.
So I went looking for one that would was large enough for my mahogany dining table and decided to document my experiment.
I hope by sharing this you will be able to see how you too can get your hands on luxury linens at a more reasonable price.
WHAT DO THESE "NEW" OLD STOCK LOOK LIKE PRIOR TO LAUNDERING?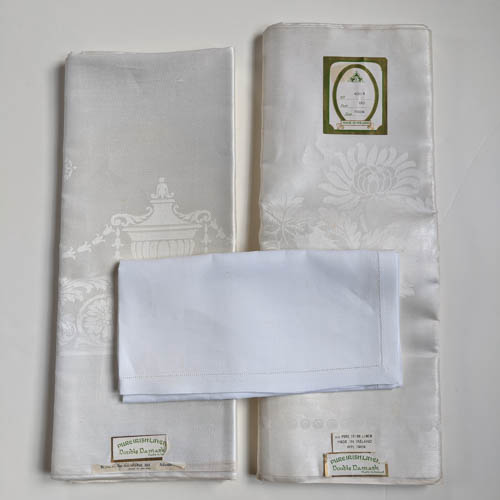 © Copyright Sugar et Cie
It is probably due to age, but most of these "New" Old Stock Irish Linen Tablecloths are more off-white, some bordering on cream. They have a quite a bit of sheen. The sheen is really pretty, but to me the sheen makes them look a little old-fashioned. Not to worry - their look changes after the first wash.
Despite the fact that they are "New" old stock and have never been used, some do have a little yellowing, a few orange spots, storage stains, etc. The one I chose for my table had a few orange spots, some yellowing and some overall dirt and dust.
How to Launder Your Linens
I don't think you have to be quite as careful as I was in washing your double damask Irish linen. I have a favorite wash that I like to use. It's called Restoration Fabric Restorer by Engleside. You can buy it online (Amazon and others). Just follow the directions. I soaked mine in warm water with three scoops of the linen wash for 15 minutes. I gave it a rinse and then put it into soak for another hour or two. This was probably, overkill as the tablecloth was in great condition, but I wanted to make sure that it brightened and that all of the spots would be gone. I rinsed it again and then I let it air dry for a couple of hours. I ironed it while it was still fairly damp.
What I have noticed about vintage and high quality linen is that when you iron them (when damp) they become crisp and lovely. No starch spray needed.
I had the linen tablecloth on our table for Christmas Eve. Of course there were a few spills and spots. This time, I spotted the recently created spills and spots with a stain spray (Oxyclean) and then laundered it on gentle and warm in my washing machine.
I let it drip dry. Let it hang dry (do not put it in the dryer) until damp and then iron it. If it dries completely, just use a spray bottle to spritz it when ironing.
Thomas Ferguson Fine Linens says to take the added precaution of using a detergent without bleach and without OBAs (optical brightening agents).
Please note I am talking about vintage Irish Double Damask linens in particular.
For care and washing of antique linens that might be more delicate, linens with color, or those not in the best of condition, you must hand wash and be much more careful.
THE FINAL RESULTS
All of the spots were gone. And what emerged was a lovely white-on-white linen tablecloth.
Based upon the appearance prior to washing, I was initially concerned that it might be a little fussy or too formal. All of my concerns disappeared post wash. The almost silk, pre-wash look, was gone. A slight sheen, the hallmark of high quality linen, remained.
This lovely, crisp, white linen tablecloth is the perfect backdrop for any table setting. For more casual dining, set the table with Italian stoneware plates and simple white linen napkins. Want to dress it up? Pull out your bone china, Limoges, and Baccarat crystal.
WHERE CAN I PURCHASE ONE?
We currently have a few in stock and what we have is always changing. Come peruse our For the Home Collection of fine linens, silver, and other home decor at Sugar et Cie.